Hill Gorillaz' Battle for Savona Ridge 2023
May 28th 2023
---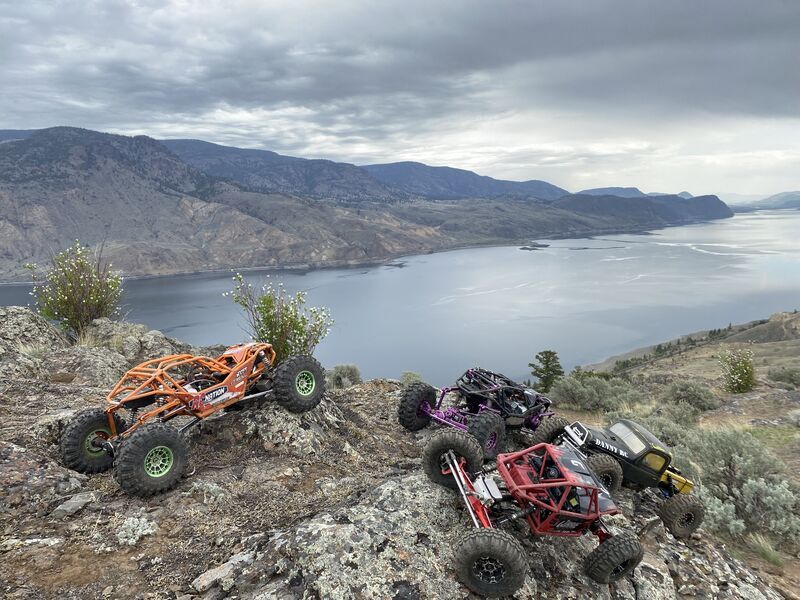 We are thrilled to announce the Hill Gorillaz' Battle for Savona Ridge, an exciting RC rock crawling event taking place on May 28th, 2023, 11:00 AM - 3:00 pm at the Savona Lookout Viewpoint, 3 minutes west of Tobiano Golf Course on Hwy #97.
In addition to a fun filled day, you could take home a brand new TRAXXAS TRX-4 courtesy of your friends at RC Nation. That's pretty good odds. Also, every driver takes home a new Lipo Fire Safety Bag. EVERY driver? That's REALLY good odds! AND every driver in this seasons Hill Gorillaz events is automatically entered in our year-end draw to WIN the new Axial SCX10 Pro Kit!
This event will follow our more relaxed rule set we call Gorillaz' Rules and it's all about camaraderie, fun, our beautiful Canadian outdoors, and a little friendly competition - so bring your friends.
Come and meet other like-minded RC lovers for an action-packed day of rock crawling, where you'll navigate through new lines of demanding terrain and obstacles. Clear the gates with the fewest errors and you win bragging rights with your friends. This event is perfect for those who love a good challenge and want to test their skills and their rigs against other RC enthusiasts and have a great time doing it.
At the Battle for Savona Ridge on May 28th, in addition to giving away a brand new Traxxas TRX-4 from RC Nation we have mountains of amazing gifts to give away and all you need to do is show up. Big thanks to our local sponsors including Rivershore Ram and Cliffside Climbing Gym, and our RC industry sponsors, Horizon Hobby, FMS Hobby, Treal Hobby, T'n'T Kustom Worx, and your friends at RC Nation. We're also giving away swag from FMS Hobby, Treal Hobby, Savox, Furitek and RC Nation. You're gonna love our sponsors.
Be on time for sign-in at 10:00 am and ready for the drivers meeting at 10:40 am because RC Nation is GIVING AWAY A BRAND NEW TRAXXAS TRX-4 at the drivers meeting BEFORE THE EVENT BEGINS!
DEETS - Click here to sign up!
Scan the QR code below for the location.
For safety and comfort, choose clothing and footwear appropriate for hanging out on top of a mountain. Bring water, snacks, and a garbage bag so we can leave the place better than we find it. Charge your batteries and let's go have some fun! If you need something to get your rig ready to run, contact RC Nation. We're here to help.
Let's recap. Every registered driver gets a new Lipo Fire Safety Bag. Every registered driver is automatically entered in our year-end draw to WIN a new Axial SCX10 Pro Kit. And every registered driver is on a short list to take home a BRAND NEW TRAXXAS TRX-4 that day! What are you doing on May 28th?
TRX-4 Giveaway- On the day of the event, all registered drivers will be entered in a draw and the winners name will be announced in the drivers' meeting. It's that simple. Before the event even begins, RC Nation is giving someone a brand new Traxxas TRX-4. Sweet.
Big thanks to our sponsors below! Show them some love.
Horizon Hobby - Axial 1/10 SCX10 PRO 4WD Kit.
Treal Hobby and RC Nation are giving you three, $100 Treal shopping sprees.
FMS Hobby - ROCHOBBY 1:10 Atlas 4x4 Off-Road Truck RS.
Rivershore Ram Chrysler Jeep Dodge. New and Used vehicles, Service centre, and all the parts you need.
Cliffside Climbing Gym, indoor climbing in Kamloops. An excellent place for your group to hang out. Get it?
T'n'T Kustom Worx makes custom remote control crawler link systems.